The Best Weight Lifting Belts For Crossfit
Weight lifting belts are often overlooked by many gym-goers. In this post we bring you 5 reviews and a buyers guide to help you find the best weight lifting belt for your needs.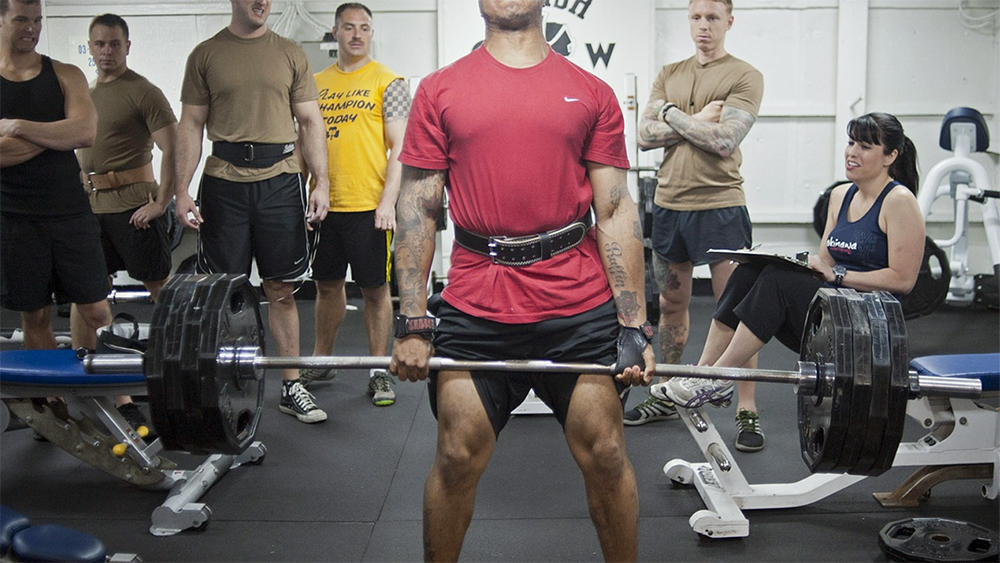 Pixabay
Deciding to buy a weight lifting belt is one of the best decisions you can make. When you become more advanced, it's an absolute essential. The more weight you're lifting, the more support your back  (and the rest of your body) needs.
Most people just jump at the first product they find that matches their budget. This can be a big mistake as choosing a weight lifting belt that doesn't fit properly or isn't suited to you can cause injury. We found the Dominion Leather Weightlifting Belt  to be the best on the market and to find out why keep reading!
Best Weight Lifting Belt Comparison
| Image | Name | Width | Rating |
| --- | --- | --- | --- |
| | Dominion Leather Weightlifting Belt | 4″ | |
| | Dominion Strength Training Weightlifting Belt | 3″ | |
| | Stoic Powerlifting Belt | 4″ | |
| | Progryp Powerlifting Belt | 4″ | |
| | Steel Sweat Weight Lifting Belt | 4″ | |
The belts listed in the table above were ranked based on personal experience and consumer reviews. It's worth noting the difference in the width of the belts. The size you're best suited to typically depends on the size of your mid section.
The Best Weight Lifting Belts

It's important you're aware of which qualities to look for in a top weightlifting belt. It's really important you get the fit right on these. After all, these things give you that much needed extra back support while lifting so it's important to get the fit perfect. Below is a list of the 5 best weight lifting belts on the market which you'll be sure to love.
Dominion Leather Weightlifting Belt
No matter what level lifter you are, this belt can help you protect your back while pushing yourself past your previous limits. This leather weight lifting belt is meant to last your entire lifetime, not only because it is durable, but because it is so adjustable. There are 10 different sizes this belt can be adjusted to. The 11 holes are each spaced one inch apart.
The top grain cow leather used to make this belt is very strong and feels worn in the first time you put it on. With a stainless steel buckle, there is no reason to think this belt wouldn't last you a very long time. This is a single-prong weightlifting belt.
With this belt, you get a lifetime warranty. The makers of this product are so confident that it will last you forever that they will refund your money or send you a new belt if you ever do manage to break yours. This belt meets the standards of several of the top power-lifting federations, so you know it is going to help protect your back.
This is a great belt to go with for any weightlifter or power-lifter. Although it is on the pricey side, it should be the only you ever need to buy.
Dominion Strength Training Leather Weightlifting Belt  
This is one of the best Olympic weight lifting belts you can buy. It is a preferred product of those who participate in crossfit, power-lifters, and Olympic athletes. Being made of 100% top grain cow leather makes it feel as nice as custom weightlifting belts that cost twice as much. The hardware on this belt is made with stainless steel hardware. The roller is steel and works seamlessly.
The manufacturer wants you to remember not to use your pant size when ordering your belt, but instead to measure around your belly button. Although these belts are very adjustable, you do have to decide if you want to order a small, medium, or large. These belts have ten different settings for your waist.
You can use this belt no matter your experience and skill level. It also complies with many power-lifting federation rules. This belt comes with the lifetime warranty as well. If anything goes wrong with your belt, you can contact the makers and get a hassle-free refund or replacement.
The 3″ belt is a great option for people on the shorter size. Some of the wider belts are too large to comfortably fit between the pelvis and chest of smaller power lifters.
Stoic Powerlifting Belt
Many lifters prefer this belt over others because it is the same width all the way around. There is none of the tapering that you see with other weightlifting belts. The belt is 10mm thick, with 1.2mm of that being suede. The rest of the width is all leather. With vegetable tanned leather that is full grain. They left the leather natural looking because they are they feel their belts are properly tanned.
The stitching is nylon and meant to last you a long time. Everything about this belt was designed with longevity in mind. It has a single-prong buckle that is a heavy stainless steel with a seamless roller. This belt should give you excellent support for years to come. They only put suede on one side of the belt so that you have as much supportive leather as possible in the 10mm thickness.
This is another belt that has a 100% satisfaction guarantee. They believe they have filled the gap between belts that are way overpriced and belts that are so cheap they won't last nearly as long as they should. The fact that their leather isn't tanned is just one way they aim to prove that they take their time and makes their weightlifting belts the right way.
Progryp Powerlifting Belt
This is the first belt on the list that is double-pronged. It is designed to be very flexible and comfortable to wear while still providing the support you need to protect your back. This weight lifting belt is made of top grain leather and is entirely coated in brushed suede.
The manufacturer calls this a competition level belt. Judging by all of the positive online reviews it has received, that claim is accurate. The belt is black and sleek looking. With smooth rollers, it is easy to adjust this belt to the right size. The only complaint about this belt is that it seems to run a bit small. This is an easily fixed problem by simply ordering a little bigger than you think you need.
Although the makers do not list a belt thickness, it seems to be 9mm. Some users say it is a little stiff when it first arrives, but it does not take much to soften it up. The belt is double ply all around and should last a long time, but there is no warranty advertised.
Overall, this is a great and affordable weight lifting belt for people at any expertise and fitness level.
Steel Sweat Weight Lifting Belt
This incredibly well made weight lifting belt stands out for being brown instead of black. It is another single prong belt but is designed to be very durable. The thickness is 10mm to make sure it provides you with plenty of lumbar support. By making your core steadier, you can transfer more of your force to lifting and reach new goals.
The Steal Sweat belt is made of 100% genuine cow leather. It is 4 inches thick, which is great for support, provided you are tall enough for it to fit comfortably. The sizes range from small to XXL so you should have no problem finding one that is perfect for your waist/stomach. Be sure to order one that fits snugly so that it can offer as much support as possible. By only having one prong, the makers say it is quicker and easier to adjust this belt as needed. The prong is designed to be sturdy and not snap off backward.
With this product, you get a belt that complies with many federations' standards. It is vegetable tanned and meant to last you for years to come. They got their method from cowboys and spend weeks tanning your new weight lifting belt.
Buyers Guide
When used properly, almost anyone can benefit from using a weightlifting belt while doing squats and deadlifts. A well-designed belt can prevent common injuries associated with lifting heavy weights. It is important to do your research and get a high-quality belt. You also need to follow some basic guidelines to make sure you are protecting your back and getting the most out of your workout. This guide will go over the best weight lifting belt features and tips for using one.
How a Weight Lifting Belt Works
The one goal of a weight lifting belt is to add stabilization to your core. A belt will limit how far your abdomen can expand when you exhale. It is the extra pressure created by this restriction that gives you added spinal stabilization.
When your spine is that stabilized, your body will automatically increase the contractions of your legs and hips. Ultimately, this allows you to lift heavier things faster, improving your workout results. You will be using more of your muscles and should see development happen more quickly.
A weight lifting belt is great for cushioning your spine and it improves the efficiency of your lifting. It will not, however, prevent all injuries. Be sure to lift safe and follow all of the guidelines associated with weight lifting.
For a further breakdown of how weight lifting belts work checkout this guide.
Who Shouldn't Wear a Weight Lifting Belt

There are certain circumstances and people who should avoid using a weight lifting belt. Here are some circumstances where you would be better off skipping the belt.
For people new to lifting, it's not recommended to use a weight lifting belt. When you are learning technique and form, a weightlifting belt can make things harder than necessary. Before adding a belt, make sure you have perfected your form. People who can't move well with a belt on. Some people find their movements are hinder while wearing one of these belts. If you can't move as freely as you should, you are better off just skipping the bet.
Another type of person who wouldn't need to use them is those who don't do the types of exercises the weightlifting belts are designed for. If you are just doing bicep curls and such, a weightlifting belt would be nothing more than a fashion accessory. These belts are designed for people doing overhead presses, squats, and deadlifts.
It's also important that people with health conditions don't use them.
The extra pressure to the abdomen can be dangerous for some people. If you have a heart condition or have suffered a hernia, a weightlifting belt should not be worn unless your doctor okays it.
Materials for Weight Lifting Belts
There are a few different common materials you will find when shopping for your belt. They all have their advantages and disadvantages.
Leather
This is by far the most common material you will find and it is a favorite among power lifters. It is a very durable material and these belts are often very well-made. Leather can come in different qualities, however, so be sure to investigate what type any belt you are considering is made up of.
Velcro
If you value mobility over anything else, a Velcro belt might be right for you. You may find your movements smoother with this belt. For these reasons, Olympic athletes often prefer this material for their weight lifting belts.
Suede
While this is material is not as durable as leather, some people prefer it because it is more comfortable to wear. They also tend to stay in place better when you are lifting. If you are buying your weight lifting belt, suede might be a good place to start.
Width and Thickness of the Belt
The width and thickness of your belt will greatly impact how easy it is to use. Most belts are 4 inches wide. This is great for many lifters, but some will find that too big. For those on the shorter side, there are belts that are only 2.5 or 3 inches wide on the market. You want to make sure your belt fits comfortably between your pelvis and chest, especially if you are female.
For thickness, this is one of the factors that determine how much stability you will get when wearing your belt. The stiffer the belt is, the more it will help your spine. Keep in mind that most federations limit the thickness of belts to 13mm. The most common thickness you will find in belts is 10mm.
This is plenty for adding stability to your workout.
Fastening Mechanisms
People who are serious about lifting are concerned about every detail of their weightlifting belt, down to how it fastens. There are three common types of fastening mechanisms you will find when shopping for your belt.
Single Prong
This is the most popular often. The single prong is usually enough to keep the belt firmly in place. It also requires the least amount of fuss to use.
Double Prong
You will hear many lifters complain about this type of fastening system. It doesn't offer any additional support and can take twice as much effort to get closed. Many serious lifters do not appreciate anything distracting them from the task at hand.
Lever
This is a fancy option that allows you to skip steps when putting on your belt. You have to preset how tight you want it and adjusting this tightness requires tools. If you are someone who needs the same amount of tightness no matter what type of lifting you are doing, this might be the fastening mechanism for you.
Best Weight Lifting Belt for Women
Women can get the same benefits from wearing a weight lifting belt as men. There are only a few differences between them. Generally speaking, a belt designed for women will be smaller in both width and height. The design is usually better suited for the female form. The colors of belts for women are usually different well. The manufacturers usually try harder to make more attractive weight lifting belts for women.
How to Use a Weight Lifting Belt
You will need to decide where the belt feels the most comfortable. This is simply a matter of personal preference. Then, you will need to make sure it is adjusted properly. You will want to use the tightest notch possible that still allows you to take a full breath. This is especially important with squats.
Does Wearing a Belt Weaken Your Core?
One common reason people are reluctant to wear a weight lifting belt is they think it prevents their abs from working, resulting in a weaker core. This fear is logical since your abs will contract less when wearing one. However, studies so far have not found any basis for this fear. In the studies, there was no difference in ab engagement between athletes who were wearing a belt and those who were not.
Final Thoughts
If you do your research and buy the best weight lifting belt for you, it can increase how much you can lift and help you reach your goals. Be sure to consult with your doctor if you are concerned about how a belt may affect any health conditions you have.
Be sure to look for a belt that is well made and will last you for awhile. A good one will not be cheap, but it will be worth it!
For more information on how and when to use weight lifting belts check out this post from Bodybuilding.com
Stay on top with our newsletter.