The Best Running Shoes For Wide Feet
Having wide feet makes buying running shoes hard. You don't want to risk the hassle of splashing out on a new pair just to find they squeeze your feet and leave you unable to run. We're on hand to help.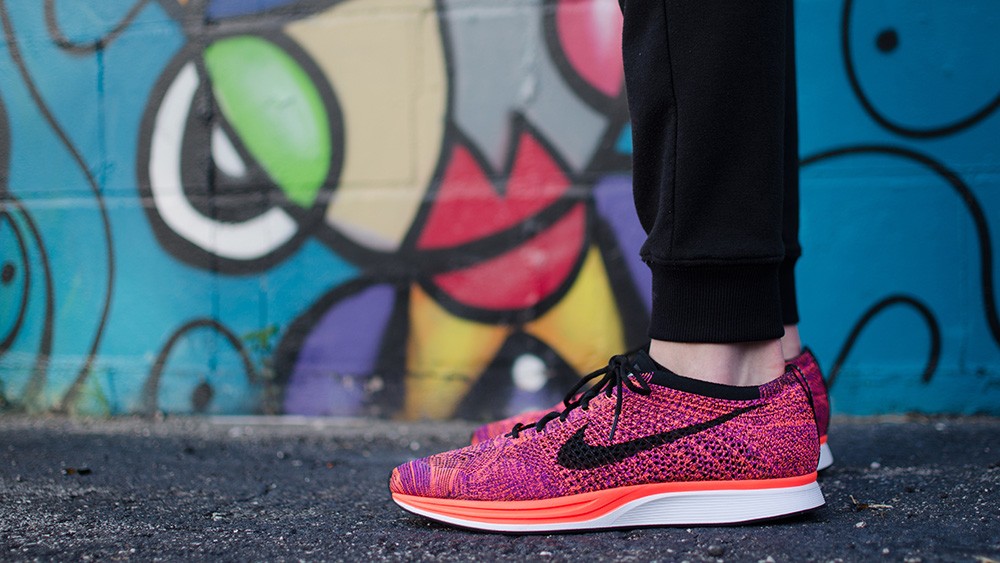 Runners with wide feet often struggle to find running shoes that are comfortable regardless of the distance they plan on traveling. Anyone who has ever experienced that cramp-like burning sensation in their feet will no doubt appreciate the need for a comfortable pair of running shoes.
Many manufacturers now produce trainers and running shoes especially for wide feet, while others offer a "size wide" that has a wider toe box than the regular model. The benefits differ greatly between different manufacturers, but in almost all cases you'll see an increase in foot comfort.
Jump to:
Men's Running Shoes For Wide Feet

A comfortable pair of men's running shoes for wide feet don't need to break the bank. Typically, you won't be picking up the latest models for under $100, but you can still find some perfectly suitable shoes for well within that budget.
Budgets, styles and preferences all differ between runners, so our picks for the best men's wide running shoes may not cater to everyone. We're pretty confident we've picked a good variety though. Take a look below.
Men's Running Shoes For Wide Feet Comparison
| Image | Name | Rating |
| --- | --- | --- |
| | Mizuno Men's Wave Rider 21 | |
| | NIKE Men's Revolution 3 | |
| | Brooks Men's Adrenaline GTS 18 | |
| | NIKE Mens Air Zoom Structure 19 | |
The Best Men's Running Shoes For Wide Feet

A quick glance often isn't enough to know whether a shoe is right or wrong for you. This is especially true if a standard fit isn't doing the trick for you.
We've taken a closer look at each of our top picks to bring you a more in-depth review of each. Below are the best men's running shoes for wide feet, with a mixture of style and budget in mind.
Mizuno Men's Wave Rider 21
These stylish shoes are great for providing the support your feet need while running. The mesh design allows your feet to really breathe, while still being strong enough to give you a durable shoe. Although they are quite flexible, they still provide plenty of support. There is even a soft anatomical sock liner that gives you an even cushier ride.
We like that these shoes are incredibly lightweight. They will not start to weigh you down, even on the longest runs. With their CloudWave technology, you get just the right amount of shock absorption and energy return.
The Mizuno company has been making high-quality athletic gear for over a century. They have a reputation for combining technology with style to provide the ultimate running shoes.
One of the things they pride themselves on is giving their gear technology you won't find with any other brand.
These shoes have both regular and wide options. The makers recommend going up a half size when ordering to make sure your toes have plenty of wiggle room when out running. With all of the positive reviews these shoes have gotten, even from people who struggle with foot pain, it is easy to see why these might be the best wide running shoes.
NIKE Men's Revolution 3
With mesh on the top and Phylon foam on the bottom, these shoes are designed for optimum comfort. The foam in the midsole is great because it is lightweight while providing the perfect amount of cushioning.
Rubber makes up the outsole, giving these shoes great traction. They are a very lightweight option that many people find they can wear all day comfortably.
For those with wide feet, these shoes are very popular. The only occasional complaint is the lack of insole support. That is an easy fix, however. You can purchase insoles relatively cheaply at any grocery or drugstore.
Many users of these wide running shoes find them to have the perfect amount of arch support, something that's increasingly important with a wider toe box.
The durability of these shoes is very impressive, which is great because they are a little expensive. They are not far more expensive than many of the other quality running shoes on the market, but you still want to make sure they are built to last.
These shoes come in so many different colors, it may take you awhile to decide which one you want. They are all very stylish and should provide excellent comfort for anyone with wide feet. NIKE has a reputation for making superior athletic wear, and with good reason.
Brooks Men's Adrenaline GTS 18
There is a lot to love about this pair of shoes. The insole is removable and made of molded foam. These shoes are incredibly comfortable to wear, no matter how long of a run you are going for.
The "Flextra" rubber on the outsole offers a lot of support while still being very flexible. The BioMoGo DNA cushioning is meant to adjust to your personal gait. The fabric lining in the shoes is very comfortable as well.
Both the tongue and collar of this shoe are very plush. Altogether, the design of these shoes makes sure you having the most comfortable run possible.
People who have both wide and flat feet love the design of the Brooks Men's Adrenaline shoes. They find that they do not get the blisters they used to with other running shoes.
These shoes are specifically designed to provide you with stability while you are out. They are also popular among hospital workers and other people who need to be on their feet 12 plus hours a day.
Although there are not as many color options with these shoes, the support and comfort still make them a contender for the best running sneakers for wide feet.
NIKE Mens Air Zoom Structure 19
NIKE makes the list again with another good option for runners with wider feet. The cushioned collar is great for supporting your ankles while you are running, which is a feature that we love. With a mesh design, you should find your feet breathe just fine while wearing these shoes.
The soles of these shoes are nice and lightweight. With the super soft cushioning, you will find you can wear these shoes for hours on end. These shoes are so comfortable, NIKE says you can wear them with or without socks.
The traction pattern on the outside of the shoes was inspired by waffles and designed to give you superior traction. They are incredibly flexible while still being quite durable.
These shoes are often recommended by doctors for people with foot and knee pain. That goes to show how supportive and comfortable these are.
They are particularly good for people who suffer from shin splints. Even if you do not experience pain while running, these shoes can help prevent future injury.
Again, Nike has long been the go-to brand for runners, and these could be the best athletic shoes for wide feet on the market currently. Be sure to check their sizing chart before making your purchase. Some people think these shoes run small and others think they run big.
Women's Running Shoes For Wide Feet

While reviewing women's wide running shoes, we found the distribution of weight much more varied in shoes with a wider toe box. In most of the men's shoes we tried while researching, the greater surface area was well compensated for with adequate padding.
This wasn't always the case with women's shoes, so picking the top pairs was took a little longer. That's something to keep in mind while shopping for yourself. Check out the table below to see the final shoes we settled on as the best around.
Women's Running Shoes For Wide Feet Comparison
| Image | Name | Rating |
| --- | --- | --- |
| | Brooks Women's Adrenaline GTS 17 | |
| | adidas Women's Ultraboost W Running Shoe | |
| | Skechers Performance Women's Go Run 400 Obstruct | |
| | NIKE Women's Zoom Winflo 4 | |
The Best Women's Running Shoes For Wide Feet

Finding a comfortable pair of shoes is hard. For women with wide feet, it's even harder. We put a few popular running shoes for wide feet to the test and filtered out the bad ones to save you time.
Each and every one of the running shoes featured here are perfectly well adapted for women with wide feet. They have plenty of room in the toe box and compensate for the shape change in all the right places. Keep reading to see what we believe to be the best women's running shoes for wide feet.
Brooks Women's Adrenaline GTS 17
These are great running shoes for women with wide feet. The mesh top offers optimum breathability. With a fabric lining, these shoes are incredibly comfortable to wear all day. The wide sizes are perfect for women who have struggled to find the right shoe size for their feet.
Just like the men's version of the shoes, these feature BioMoGo DNA to make sure the insoles match your gait. With the segmented Crash Pads in the shoes, your transitions are smooth and easy on your ankles. These shoes also have the removable insoles so you can get the padding you need. They are lightweight and will not slow you down.
Since it has HPR Plus and a blown-rubber forefront, these shoes should last you a long time. The shoes are nice and flexible.
Be sure to order up a half size so that your feet can expand a little during your run without causing too much discomfort.
Brooks shoes are great for women with wider feet. There is plenty of room in the toe box. They come in several stylish colors. Just because they look girly, doesn't mean they aren't providing all of the support and comfort you need to really make the most of your workout.
adidas Women's Ultraboost W Running Shoe
Another great brand for athletic wear is adidas. With these shoes, we love the supportive cage on the inside to keep your foot in place while you are running. Your feet will be nice and stable, minimizing the risks for injury.
With rubber soles, these shoes offer great traction. They are great for both wet and dry conditions. The heel is molded in a way that allows your Achilles to move the way it needs to.
The "Boost" cushioning is the best yet from this manufacturer. They say that the more energy you give, the more energy you get. What runner wouldn't want that?
When you buy adidas shoes, it is important to make sure you are getting an authentic pair and not fakes. The real ones should last you for a long time, where as a fake pair will likely break on you within a matter of weeks.
Shopping from reputable stores and sites is the best way to make sure you end up with the real deal.
As with many running shoes, especially for people with wide feet, it is a good idea to go a size up to make sure they fit well and are comfortable when buying these shoes.
Skechers Performance Women's Go Run 400 Obstruct
These shoes are amazingly lightweight and flexible. They are a great option for any woman with wide feet because of the sizes they come in. With the wide variety of color options, you are sure to find the perfect pair for your workout wardrobe.
The tops of these shoes are made of a highly breathable mesh fabric. The midsole uses well cushioned "5gen" technology.
Skechers has a patented Goga Run insole that is designed to offer amazing shock absorption and ample support for your run. The GOimpulse sensors on the outside of the shoes are what gives it such amazing traction control.
The "squishiness" of the insoles helps to alleviate pain for many users. These would be great shoes to try if you have any issues with your knees or ankles when running.
Unlike a lot of running shoes on the market, these tend to run true to size. As long as you know what wide size you need, you should not need to order up when buying these shoes.
Being very durable means that these shoes are great for running, walking, and everyday use. They are definitely some of the best wide sneakers for running on the market.
NIKE Women's Zoom Winflo 4
Here we have yet another great pair of running shoes for wide feet from NIKE. The lining in these shoes is very soft, making them a pleasure to wear all day long. They have a great rubber sole for superior traction when out running.
These shoes are marketed as the perfect pair to wear all day. They are stylish enough to wear during your everyday errands while also being comfortable and supportive enough for your run.
Being lightweight means they will not wear out your legs by wearing them for long periods. There are several good looking color options to choose from.
The arch support from these shoes is quite good. They might not be ideal for people with flat arches, however. All in all, they are supportive enough for most runners.
With light cushioning and a Fitsole foot-bed, your feet are bound to thank you for getting them these shoes.
When ordering these shoes, it is a good idea to go a half size up. That way, you have plenty of room in the toe box. These shoes come in the wide sizes, making them a great choice for any female runner with wider feet. When it comes to athletic wear, you really can't go wrong with NIKE.
A Guide To Buying Wide Running Shoes

If you like to run, it is important to have the proper foot attire. Shoes that are too tight can be uncomfortable or even painful. People with wide feet often struggle to find the best pair of shoes for them.
When shopping for your shoes, there are several factors to consider. In this guide, we will go over the most important features to look for as well as how to know the proper size.
How to Measure Your Feet
The first step in determining the right shoe size is tracing your feet. Wear the same type of socks you will be using when you are running while you trace. Be sure to take your time and trace your foot carefully, keeping the pencil or pen as close to your foot as possible the entire time.
You will want to trace and measure both of your feet because they may be slightly different.
Next, you will measure both the width and length of your foot. Be sure to measure at the widest and longest parts of your tracing. Measure between your heel and your biggest toe.
Finally, decide what size to get. If one foot is bigger than the other, go with the bigger size. There are several websites with tools to convert your measurements into appropriate shoe sizes.
What Makes a Good Wide Running Shoe?

Much of the same characteristics you'd look for in a regular running shoe apply here. Things like comfort are slightly different depending on the width of your feet.
A wider toe box means the shoe needs to balance out the weight distribution evenly despite there being more surface area at the front of the shoe. Let's look at some of the most important aspects when choosing a wide running shoe.
Comfort
How much cushioning you need is up to your personal preferences. Some people need minimal cushioning while others require quite a bit to feel comfortable when running.
The tightness along the upper part of the shoe is also a factor in how long you will be able to wear the shoes. Shock absorption is important for a comfortable run.
Read up on how the makers of any shoes you are considering protect your feet, ankles, and legs from the impact of running.
Breathability
Mesh is the best material for the upper on your shoe if you need a lot of breahtability. Ventilation is important so that your feet do not sweat too much, which can cause blisters and other irritation. Most running shoes will have wicking capabilities to draw the moisture out.
Traction
The type of traction you need depends on the type of conditions you generally run in. Rubber is a great material for both wet and dry surfaces. Traction is important for runners, so pay close attention to this on your shoes.
Toe Box
People with wide feet need to pay extra attention to how big the toe area is. Being able to stretch out your toes will make for a much more comfortable run. For some runners, the size of the toe box is the most important consideration of all.
Heel Fit
The heel tends to be neglected when people are trying to size their shoes. You need the heel to be relatively tight so that your ankle is supported.
On the other hand, if it is too tight it can lead to major discomfort during your run.
A too tight heel can affect your performance, so this is an important consideration.
Flexibility
You will want a shoe that is responsive and will flex with your foot as you run. How much flexibility you need is a matter of personal preference. Everyone needs some flexibility, however, or your run will be painful and have the potential to cause injuries.
Durability
On average, a good pair of running shoes will last you from 300 to 500 miles. That's just a general rule of thumb, you'll find that many can last up to 750 miles, depending on the conditions.
Check the reviews on any shoes you are considering and see if they have a tendency to wear out sooner than 300 miles.
Style
For some people, the look of their shoe is very important. It used to be hard to find wide shoes that are stylish, but that has been steadily changing. Several wide running shoes now come in both a variety of colors and widths.
When spending as much money as running shoes often cost, it's clearly important that you love everything about them!
Laces
The laces on your new shoes should allow you to tighten your shoes appropriately. Make sure to not pull them too tight. You do not want your feet to be constricted. A lace keeper is a great feature to make sure your shoes stay tied and you can't trip on the laces.
Letter Sizing
On top of the number, which refers to the length of the shoe, there are letters that indicate the width. "A" sizes are for the more narrow feet, while the "E" sizes are wider.
The more letters involved in the size, the more extreme it is. For example, "AAA" is the narrowest you can get. For wide feet, the sizes go up to "EEEEE." This is true for men and women.
When to Size Up
If your feet feel at all constricted, it may be time for bigger shoes. Depending on where they are constricted, you can get longer shoes or wider shoes. Remember, you do not want your shoes to be too loose but you should be comfortable.
Keep in mind that some shoes tend to run small while others tend to run big. Reading online reviews is the best way to know if the shoes you are wanting run true to size.
Our Final Thoughts
The three key features of shoes are fit, support, and flexibility. This can be a challenge for anyone, but especially those people with wider feet. Careful research should be done before making this purchase.
Shopping for wide running shoes can be a bit tricky, but it is definitely worth it to get shoes that feel comfortable and give you plenty of support.
It may take some trial and error to find the size and brands that work best for your foot shape. Hopefully, this guide has given you a good idea of what to look for when you start your shopping.
Remember that running shoes should be replaced roughly every year. If you use them longer than that, you are risking them hurting your feet.
Stay on top with our newsletter.