The Best Deadlift Shoes
Looking for a pair of deadlifting shoes? This post reviews 6 of the best on the market and brings you a buyers guide.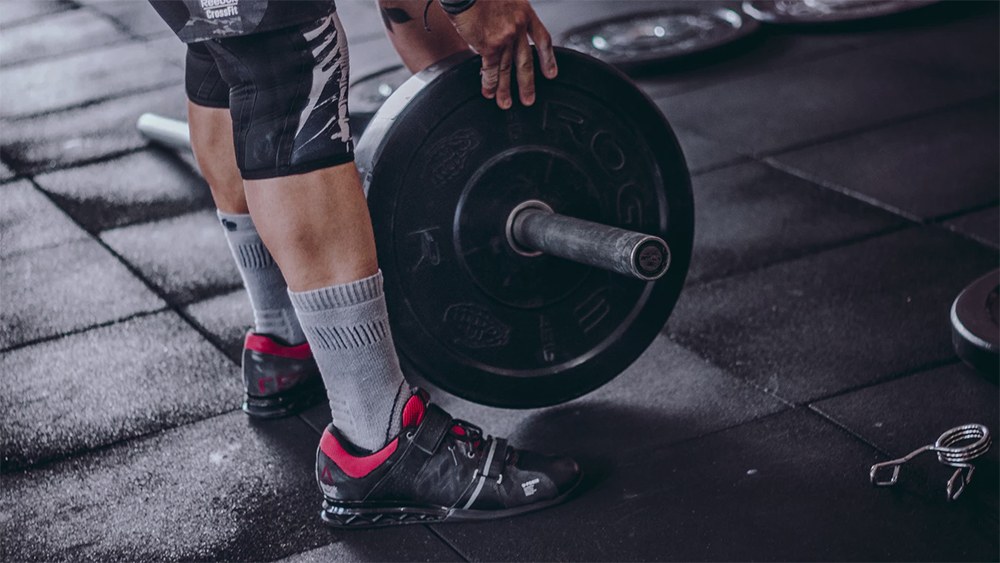 Unsplash
If you're serious about compound lifts, in particular deadlifts it's important you do them as efficiently as possible. Deadlifting shoes are a great way to take your lifts to the next level. They help to improve your range of motion and give you much needed extra stability.
So if you're looking for a pair of great quality deadlift shoes you're in the right place. In this post we review 6 excellent shoes for deadlifting in as well as bringing you a buyers guide later on in the post.
Top 3 Deadlifting Shoes Compared
The Best Deadlift Shoes

Finding a great pair of deadlifting shoes is really important. They're quite an investment so you want to make sure you find the perfect pair for you. You'll want to make various considerations when deciding which pair to pick. These include the sole of the shoe, the heel height and further considerations we discuss in the buyers guide.
Below we've listed 6 of the best deadlift shoes which you're going to love.
Adidas Performance Men's Powerlift.3
First up on the list the Adidas Performance Men's Powerlift.3 Cross-trainer Shoe. This is a shoe that we're really excited about and we know you will be too. These days it's common knowledge that Adidas make great sporting footwear, there's no question about it.
The amount of effort that's gone into the production of these trainers is really quite astounding. If you're wearing regular trainers for your deadlifts, you're going to be very pleased with the impact these shoes have on your workouts. They bring an added feeling of stability, especially when it comes to performing the more strenuous exercises such as squats and deadlifts where balance is crucial.
That added stability helps you activate your hamstrings more easily, in comparison to wearing your everyday gym trainers. We love that these shoes come with an added heel height of 0.6 inches. They're also suitable for those of you with wider feet. Ultimately, if you're looking for an excellent deadlift trainer that doesn't break the bank you'll be very pleased you bought these.
Reebok CROSSFIT Lifter 2.0
The Reebok CROSSFIT Lifter 2.0 are the next trainers that make it onto our list. What we love about these deadlifting shoes is how sleek they look. Starting with the appearance of the shoe rather than its functionality may seem strange.
However, these are trainers that you will not only look great in but lift great in. Aside from looking phenomenal these shoes are a great fit which you're really going to love. From the first time you wear these you'll feel the tongue of the shoes softly pressing against the top of your foot.
The 3D FuseFrame technology helps to provide a fantastic fit that means you won't feel like the shoes need breaking in. Overall these are a shoe that provide a great amount of stability, look great while you wear them and have to be a serious contender when it comes to top quality deadlifting shoes.
Sabo Deadlift Shoes
Next up on the list we've got the Sabo Deadlifting Shoes. The first thing we're going to touch on is the metatarsal strap that comes with these shoes. For those of you who have never heard of a metatarsal strap, we can confidently say it's going to be one of your favourite features of this shoe.
This is down to the fact that it almost feels like your feet are being sucked into the ground. This is a key factor in helping you get that much needed stability during heavy lifts.
These come with a great amount of lateral stability. You'll notice when driving upwards your feet feel almost locked in to the shoe. Overall these shoes mean business. They're a really great option for deadlifting, and literally have deadlift written on them.
Adidas Men's Adipower Weightlift Shoes
The Adidas Men's Adipower Weightlift Shoes are the next shoes on the list. These are a trainer that you'll be really excited to try. We've already touched on the overall quality associated with Adidas trainers and especially with the Powerlift.3 shoe.
The overall quality of these trainers is really quite outstanding. The notable features are the 1/2 straps which keep the shoe firmly gripped to your feet. You'll also love the elevated heel on these along with the overall stability of the shoe.
We're really pleased with how well these hold up in terms of overall support during heavy compound movements. This is another great weightlifting shoe from Adidas and one you'll be really happy with.
If you didn't like the look of the powerlifting.3 but still want to go with an Adidas deadlift shoe then these are the ones for you.
Nike Men's Romaleos 3 Weightlifting Shoes
Next up on the list is another great shoe from a big name, we've got the Nike Men's Romaleos 3 Weightlifting Shoes. These come with a great amount of stability and overall support. They'll leave you feeling solid on the ground, which is exactly what you want during heavy compound lifts.
You'll feel like these shoes improve your performance. This is because they allow a great amount of drive through the heel which helps give your lifts that extra explosive feeling.
If you're serious about deadlifting and other heavy compound lifts these shoes are a great contender. Nike have yet again delivered a really great quality sports shoe. These trainers will not only help you improve your performance of current lifts but also improve your form.
Inov-8 Men's Fastlift 325
Last but not least on the list we've got the Inov-8 Men's Fastlift 325 Cross-Trainer Shoe. Due to their competitive price but high quality these are a really great purchase. Now we know that some lifting shoes can be a little flamboyant. These shoes are very subtle and almost look like regular gym shoes.
These offer the perfect combination of stability and flexibility. The heel is a great height and helps you get that added push through drive you'll need with compound lifts.
These are a snug fitting shoe and will also feel very supportive when wrapped around your feet. Despite being last on our list, these are a deadlift shoe that will blow others away. They've got a great price tag, excellent overall quality and have a great aesthetic.
Deadlifting Shoes Buyers Guide

When starting out with the gym it's probably fine to wear any suitable regular pair of sneakers. If you're serious about your compound lifts, especially deadlifts the times probably come to buy a pair of shoes designed exactly for that. I mean if you've found your passion, why not make it as efficient as possible right? In this section of the guide we'll explore what you'll need to lookout for when buying a pair of deadlifting shoes.
Benefits of Deadlifting Shoes
Before we get into the technical aspects of deadlifting shoes, we're going to explain exactly what the benefits are of investing in a pair. After all, gymwear can be pretty expensive and you'll want to make sure that buying deadlifting shoes is the right thing for you.
Stability & Reduced Range of Motion (ROM)
As we're sure you already know, compound movements such as deadlifts are really strenuous lifts. They take every ounce of strength you've got you'll want to make sure that you've got as much support as possible when doing so.
The great thing about deadlift shoes is that they give you added stability you don't get from your regular everyday gym shoe.
In terms of range of motion this makes a big difference to your deadlifts. This is because the higher you are from the floor the more distance the bar has to travel. A flat sole helps minimize the range of motion, reducing the total distance between the floor and your lockout. You will find that with some regular gym shoes the raised heel actually increases the range of motion for your deadlifts which is an obvious flaw.
Results
You'll see professional power lifters using weightlifting shoes. This is because they're the optimal footwear for carrying out these kinds of movements. You'll be pleasantly surprised by the impact that weightlifting shoes have on your overall performance in the gym. Not only will your lifts improve, but your form is likely to as well. If you take your compound movements seriously why wouldn't you want the right tool for the job?
Overall Foot Support
You'll benefit from an improved overall foot support when wearing a pair of shoes that were designed for deadlifting. A good weightlifting shoe will provide support in three key areas: the arch of your foot, the middle of your foot and for your ankles. Have you ever seen people taking off their gym shoes and doing deadlifts in their socks? It's not uncommon.
This is often because they find that the shoes they wear increase the ROM and actually make their lifts more difficult. This isn't a good strategy as wearing no footwear not only removes all foot support provided by shoes, but also removes all the ankle support they provide.
You're also muss less likely to suffer an injury if you've got a good amount of foot support. More often than not injuries occur when an exercise (especially heavy compounds such as deadlifts) are carried out with poor form. A good pair of deadlifting shoes will not only provide the extra support you need, but help improve your form for deadlifts. This will help reduce the overall chances of you getting injured.
Why do you need them?
If you've read through the benefits above and you're still not feeling a need for deadlift shoes it may be that you're not quite at that advanced lifting stage just yet. However, you get to a certain level where regular gym shoes just don't cut it anymore.
The everyday gym shoe provides you plenty of padding, but this type of support and comfort usually isn't intended for carrying out heavy compound movements such as deadlifts. You'll find that these shoes give you plenty of support but in the wrong places.
Many everyday gym trainers are intended for running. This doesn't make them ideal for power lifting movements.
In the same sense that you wouldn't take weightlifting shoes running, running shoes and other everyday shoes aren't optimal for weight lifting.
What Makes a Great Deadlifting Shoe
If you've made it this far you know the benefits of wearing deadlifting shoes when compared to your everyday gym shoe. In this section we explore exactly what to look for in a good deadlifting shoe. This will help you find the perfect pair of deadlifting shoes for you.
Heel Height
Heel height has a big impact on the performance of your lift. This is because the heel is a vital part of a deadlift. When you think about the movement a huge amount of energy gets driven through your heel. The average height of the heel tends to be around 0.75 inches.As a rule of thumb, a 0.7 inches heel should be able to keep you stable and offer the support needed when squatting. However, it sometimes depends on your height.
Soles
You will be looking something with a good quality sole. A good quality sole in the sense of deadlifts would be something that's thin as well as flat. Thin because this helps decrease the ROM as we've previously discussed. Flat because it allows you to apply pressure to a larger, and more even surface area. When you're lifting over double your body weight you need to be able to spread your balance efficiently.
Straps
We're not talking about lifting straps, we mean the straps that go across the face of the shoe to fasten them rather than laces. These will help your feet get the maximum amount of stability preventing them from loosening during your workouts. They prevent you from sliding and help maintain balance during your lifts. Ultimately these help your feet stay snug and help give them optimal support during your compound movements.
Budget
You will be looking for something functional but that doesn't break the bank. This is especially true if you're looking for your first pair of lifting shoes. It's important to stick to a set budget as weight lifting shoes can be very expensive. The deadlifting shoes we've listed in this article are all great quality and should help you find a pair you love within your budget.
Aesthetic Appeal
This really depends on the type of gym goer you are. Lots of people go to the gym to look good, and like to look good going to the gym. This means wearing the most fashionable or trendy gym wear. Or you might be old school and don't care how they look as long as they do the job.
If you're considering buying lifting shoes make sure you check the different colors provided by the manufacturer. If you're picky don't settle for a shoe that you don't like the look of. You're spending a fair amount of money so if you want to look good in them don't settle.
Final Thoughts
Whether you compete in powerlifting or just take your compound movements seriously. Deadlifting shoes are a great way for you to take your lifts to the next level. We hope you've found this post informative and useful. If you're buying your first or next pair, all of the shoes recommended in this article are great quality shoes that we know you'll love.
Stay on top with our newsletter.